Our School of Arts co-operates with the cross-border film festival Omaggio a una visione for many years now and nothing different is also this year, when 37 authors from our school participate with 34 art works (!). We organised special film screening and exhibition. Festival took place in Nova Gorica and Gorizia from 2-7 October 2020. and after that the festival travelled to other Slovenian and Italian towns. At the bottom of this article you'll see a photo impressions from our events made by our studetn Luka Carlevaris.
**–**–**–**
2 October 2020, at Mostovna in Nova Gorica
at 16:00
Film programme SCHOOL OF ARTS PRESENTS + of photo-video exhibition SPACES IN PLACE
Film programme consisted of selected films and animated films, made in the last study year, some of them authors will present to – these were: Ana Prebil, Anja Paternoster, Nika Karner, Miha Reja and Luka Mavrič. After that prof. Rene Rusjan opened the exhibition, where 15 students participated with their photo series and films. Exhivition lasted until 4 October in Galerija TIR (Mostovna, Nova Gorica).
Read more…
at 18:00
Opening of youth festival section Prvi poleti/ First crossings with screening of international short films, among which also our graduate student Katarina Blažič participates with film FIVE HOURS CONVERSATION. Read the interview with her.
at 19:30
The cine-concert on/at/with film classic Das Kabinet des Dr. Caligari (Weine, 1920, 80′). This event blew usu away with the participating mood of musicians who will enjoy you to co-create a sonoric atmosphere for the film.
Read more…

6 October, Kulturni dom in Nova Gorica
9:50 – 17:00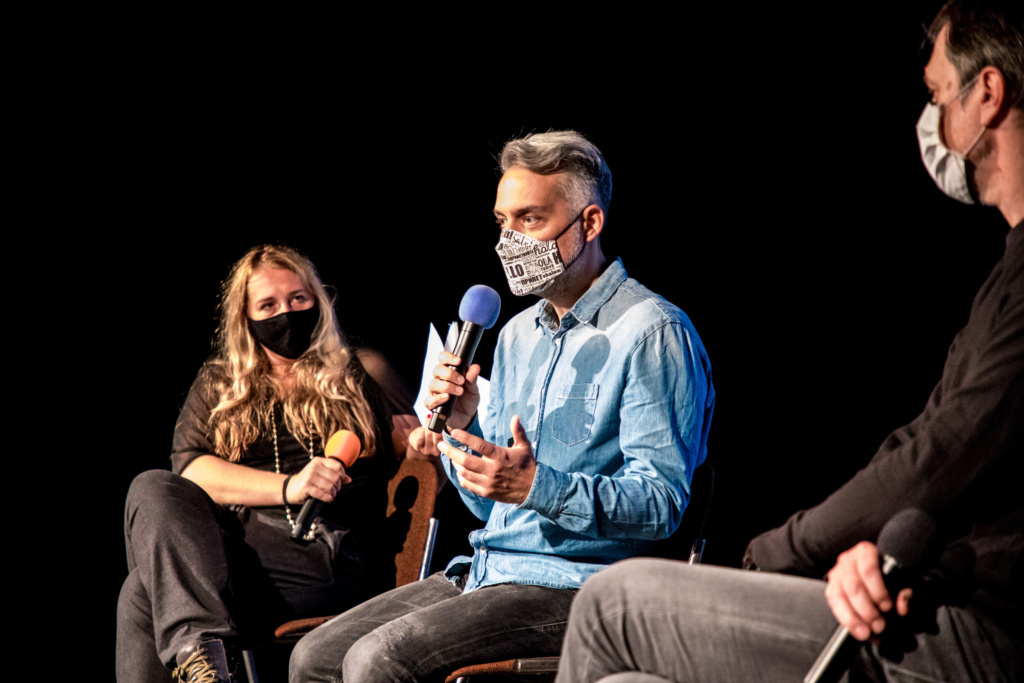 Srdan Golubović Masterclass
Golubović is one of the most important film directors from SE Europe, but born in Serbia. He is awarded author who receivew prizes in Berlin, Talin, Triest, Sarajevo, at Sundance, manly for his three films Trap/Klopka (2007), Circles/Krugovi (2013) and Father/Otac (2020). This whole-day session gave us insight in director's working and creating films, which gives you an excellent opportunity to get in contact with excellent directors directly. Event was in English.
Read more (in Slovene)…
**–**–**–**