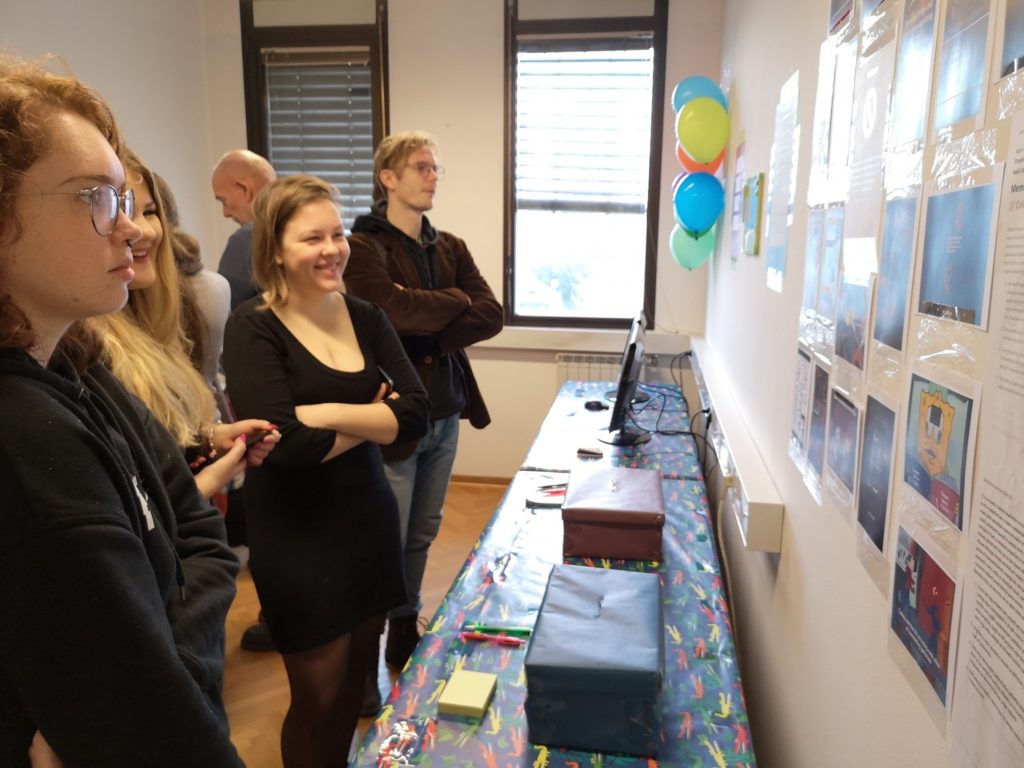 In this special time of korona restrictions, we have adapted the way the works are displayed and we invite you to visit the online shows.
Semester and annual shows are an important part of studying at the School. Twice a year, after each end of the semester, we open the door wide to the public and show you student works and the processes in which works is created. For each artist, the public display of work is a special milestone in the creative process, and even more important during the study. At the exhibitions, students also present their works to visitors.
In addition, every year we try to organize additional exhibitions of student's works in other galleries, at festivals.
---
LIVE EXHIBITIONS
Semester Show 2022/2023
https://au.ung.si/en/2023/01/06/semester-exhibition-2022-2023/
Nothing To Write Home About – Aljaž Lavrič, 2022
https://au.ung.si/en/2022/12/10/aljaz-lavric-is-preparing-his-photography-exhibition-%cb%9dnothing-to-write-home-about%cb%9d/
Passolini Revisited, Nova Gorica, 2022
https://au.ung.si/en/2022/11/29/photography-exhibition-pasolini-revisited-is-back-in-nova-gorica/
Passolini Revisited, Idrija, 2022
https://au.ung.si/en/2022/11/01/we-are-opening-an-exhibition-in-honor-of-pier-paolo-pasolini-in-idrija/
Composing Local Ecologies, Nova Gorica, 2022
https://au.ung.si/en/2022/10/06/students-think-green-an-exhibition-of-projects-on-the-ecology-of-the-local-goriska-region/
Ars Electronica, Austira, 2022
https://au.ung.si/en/2022/08/16/ars-electronica-2022/
Annual Show 2021/2022
https://au.ung.si/en/2022/05/25/annual-show-2021-2022-on-site/
Semester show 2019/2020 at address Vipavska c. 13 (Nova Gorica), where we moved from Italy at the beginning of that calendar year:
https://au.ung.si/en/2019/12/11/semester-show-2019-2020/
Annual show 2018/2019:
https://au.ung.si/en/2019/06/03/photo-memories-annual-show-2018-2019/
Semester show 2018/2019:
https://au.ung.si/en/2019/01/11/semester-students-show-2018-2019/