We are honored and pleased to be present at the 43rd Ars Electronica multimedia festival! We will have our "garden" there, Ars Electronica Garden Nova Gorica, which highlights the audiovisual, intermedia and theoretical-research works of our colleagues, students and alumni. They are organized in four parts and under the common title GREETINGS FROM THE FUTURE IV – A TOUCH OF NEW REALITIES. We want to acknowledge the fact that the current reality will have a longer duration in time then we maybe thought before, and that we will get to know its consequences only in the future. Through pre-existing impressions of sensitivity, our garden's programme questions the transience, limitation, silence, closeness, voice, touch, pleasure, fears.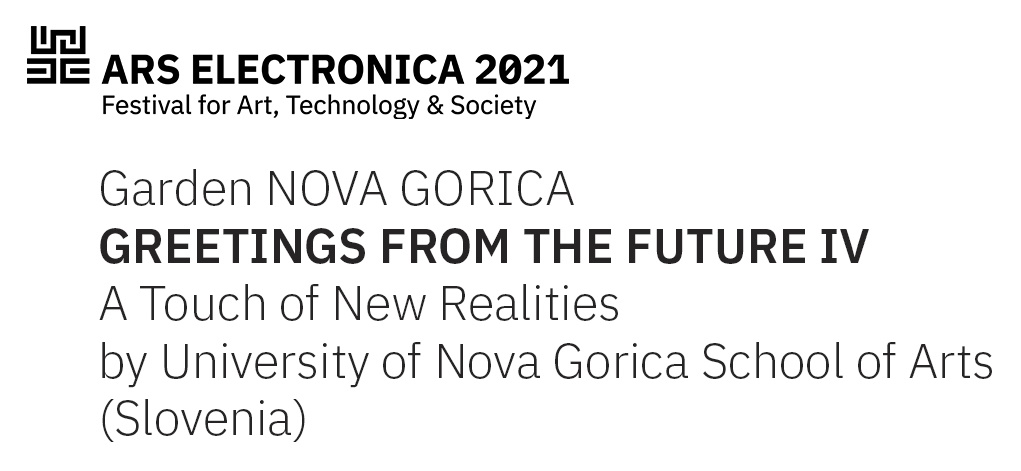 This year's Ars Electronica festival will take place between 8 and 12 September and, like last year, will be available online. More info here.
We invite you to follow the presented projects online and view the main online event of the Garden Nova Gorica, which will open on Wednesday, September 8, 2021 at 5 pm.
How to follow us, check here.
The success of the UNG School of Arts this year is complemented by participation in the only other Slovenian garden, namely as part of the network of konS- platform for contemporary research art (konS ≡ Garden for Contemporary Investigative Art and Tactical Media).
Follow us on social networks, and also see the contribution of Aljoša Abrahamsberg as part of his YT channel Sodobna umetnost / Contemporary art :
*** *** *** ***
Garden credits:
Programme team: Rene Rusjan (& leader), Rok Govednik (& manager), Jasna Hribernik, Peter Purg, Tina Smrekar, Robertine Šebjanič
Media plan: Kristina Pranjić
Technical support: Urša Bonelli Potokar

Organisators: University of Nova Gorica School of Arts, University of Nova Gorica and 𝗔𝗿𝘀 𝗘𝗹𝗲𝗰𝘁𝗿𝗼𝗻𝗶𝗰𝗮
Supporters: 𝗚𝗢! 𝟮𝟬𝟮𝟱, 𝗠𝗔𝗦𝗧 – 𝗠𝗮𝘀𝘁𝗲𝗿 𝗠𝗼𝗱𝘂𝗹𝗲 𝗶𝗻 𝗔𝗿𝘁, 𝗦𝗰𝗶𝗲𝗻𝗰𝗲 𝗮𝗻𝗱 𝗧𝗲𝗰𝗵𝗻𝗼𝗹𝗼𝗴𝘆 in 𝗸𝗼𝗻𝗦 – 𝗽𝗹𝗮𝘁𝗳𝗼𝗿𝗺𝗮 𝘇𝗮 𝘀𝗼𝗱𝗼𝗯𝗻𝗼 𝗿𝗮𝘇𝗶𝘀𝗸𝗼𝘃𝗮𝗹𝗻𝗼 𝘂𝗺𝗲𝘁𝗻𝗼𝘀𝘁.